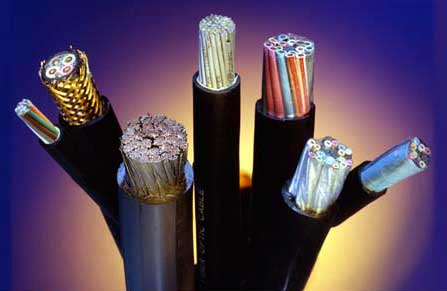 We manufacture a wide range of
PVC Insulated Instrumentation Cables
suitable for purpose of Instrumentation. In the projects related to power generation & distribution, chemical, fertilizer, sugar Industries and various other types of engineering industries. The process instrumentation plays a vital role in measurement and control of the process.
Shield is provide to prevent harmful electrostatic interface. There are three basic reasons for providing an electrostatic shield in a cable. The first important reason concerns the need to keep external electrical disturbances from affecting the signal in the cable. The second reason is to prevent the signal in the cable from being detectable at location other than at the cable ends. And the third reason is the elimination of unwanted transfer of signal between circuits in the same cable.
For the inter connection of data processor, instruments and microcomputers where signal interface is a consideration, cables are generally screened. Microcomputers require medium speed data transmission and for these, interfaces with screen twisted pair cables are suitable. When signal speeds are low a braid screen is sufficient but for higher speed a foiled screen or composite foil and braid screen is more suitable. A further refinement is to use individually screened pair to minimize the effect of cross talk, thus making possible the transmission a data over long distances.
"Load King" with its efforts in maintaining quality, stringent in process control during process, and having the well-equipped cable designing engineers, is proud to say that we are capable to manufacture and supply the Instrumentation Cables, conforming to Indian/ British/ International standard or customer's specific requirement desired by projects.
Conductor :
0.4 mm dia (0.126 Sq.mm) to 2.5 sq.mm. or higher sizes of electrolytic copper wire, Tinned/untinned, solid/stranded copper conductors.
Insulation :
70/85/105oC. Grade PVC, Polyethylene, Halogen Free FRLS Polymeric Compounds.
Elements :
Pairs/Triples/Quads, colour coded/number printed ring marked/dual colour extruded.
Shields :
Aluminium Polyester tape screen with Copper drain wire or alternately with Copper wire braiding. Individual element or overall shielding as specified.
Element laying :
Concentric formation or unit & group formation as per applicable specification.
Amounting :
Galvanized steel wire/strip amount.
Sheathing :
PVC 70/90oC. grade, PVC FRLS, ZHFR, CSP, PCP, EVA, etc.
Specification :
BS:5308 (1 & 2), iec-189 (1 & 2), VDE 0815, ENI 0181.00 and customers specifications.